Coast to coast wellness. Opening a spinal practice in Monterey, Ca. is really exciting. Growing up in Southern California I feel I am slowly heading back home. Nutrition, exercise and wellness is a by coastal topic; it doesn't matter is you live in Boca Raton, Fl. or Carmel, Ca. people want to stay active without medications. So how is this possible if you are in too much pain to move?? Well this is where my husband comes in; he is a spine surgeon offering less invasive treatments first, surgery last. I do believe diet has a lot to do with preventative care. Studies show that eating your greens for magnesium will help prevent pain and moving your body whether it is gentle yoga, walking or swimming will help your body stay mobile. More information regarding our Monterey practice visit www.ortho-spine.com. Be well and remember don't throw out all those fruits and vegetables that are a few days old; juice them….My simple juicing rule; all fruits together all vegetables together (you can add a green apple, ginger and a lemon to add sweetness to all vegetable drinks). Yummy!
Hello Carmel and Monterey Community! I have expanded my care for spinal stenosis to Northern California. Now working at an office in Monterey County I am able to treat and educate additional people who want to retain an active lifestyle. After 25 years of research I am still convinced that the majority of people do not require surgery and respond nicely to other less invasive options. Options such as diet, limited medications, therapy and targeted injections. Should surgery be your last option, newer techniques allow for rapid recovery, less pain and increased mobility. I look forward to meeting new people across the country. For more information please visit www.ortho-spine.com.
I have reviewed several new technologies for less invasive surgeries on the spine. Most of us with years of experience know that there must be improvement in outcomes to justify their adoption into practice. I still see a number of failed results because basic principles are ignored. Most pain such as sciatica usually means there is blockage causing compression of a nerve root. Most surgeries must first solve this problem. Adding hardware such as screws or implants comes next. I see mostly failure decompressing L5 nerve root. A popular new approach using lateral implants cannot address L5 S1 levels. I do like this new technology but compression must not be forgotten at this level where many failures occur and may require revision surgery.
decompression of L 5 roots if primary cause of pain cannot be
forhotten.
Now that is a tough question, especially right before Thanksgiving. "Humane" meat of any kind eventually means the death to an animal. Several animal support groups such as PETA do not believe in humane meat since they can't seem to find a "humane " factory. So the question becomes is it possible for an animal to live a "happy" pain-free life then become our dinner? As time goes on I have struggled with this answer. I firmly believe several meals should be taken OFF the menus immediately such as any pork products, foie gras and veal. But what about hamburgers, steak, chicken or fish? In the wild these animals suffer as well; lack of water and food, other predators, etc.. So if we as humans can breed and keep animals safe, fed with good foods, such as grass for cows and provide clean water and then use these animals later for products and food is that really so bad? I think the biggest problem I have with our current situation is these animals are abused physically and they live in confined filthy places and feed dirty water and foods not meant for their bodies; cows and fish we not mean't to eat corn! Then when it comes time to kill these fish, chickens and cows they suffer. I would like to believe the farm of the future will have pastures rich in soil and grass; flowing source of clean water; animals roaming or swimming freely and an ample food supply where the bottom line is not all about the bottom line. Yes, our farmers need to make a profit and the ones who help create this harmonious environment are the farmers we would encourage and support. In my perfect world; people would turn vegan and there would be no need for huge factory farms only the small harmonious farms would exsist. Be well and Happy Thanksgiving!
One of my greatest challenges and personal disappointments treating patients for 30 years is when I have failed to communicate the responsibility for the safety of a patient, which I believe is paramount. Manytime , there are choices for surgery that run from minor to major risks to a patient. Caring physicians look at the totality of risk factors prior to offering surgical choices. I have patients that are unaware of the association of smoking, obesity, hypertension, cardiac, pulmonary and a variety of other comorbitities that can lead to tragic consequences. I have seen examples of death and infections as well. In select cases, I try to stage solutions offering less invasive surgery to lower the risk of complications in high risk patients. Unfortunately results may be less then perfect, in higher risk patients, but most cases would allow a choice of additional procedures at a future time. I try to manage patients expectations so they never cross into the abyss and feel that they have no possibility of further recovery. I take complications and the results of surgeries extremely personal since I realize my patients have a choice in surgeons and they have put their trust in me.
A vegan (pronounced vee-gun) is a person that follows the strictest form of vegetarianism. They are people who do not consume animal or dairy products; even honey is off limits. Why honey? Honey is an animal by-product. Vegan living goes far beyond the foods you eat it is more of a lifestyle. Strict vegans abstain from wearing animal products of any kind such as furs, leather clothing; shoes or even car seats. Even though I have said I am a vegan I'm really not in the strict sense of the word. I do consume honey and wear animal products; my car also has leather seats. Even my little dog eats animal products. Food companies do make vegan pet food I just prefer not to use it. I still feel organic, hormone free, free range pet food is healthier for my little dog. There are many radical views of vegans but to put it simply I believe an average vegan is just someone who desides not to consume animal or dairy products. I decided to try veganism for the many health benefits and I do have a soft spot for most animals with the exception of perhaps cockroaches and mosquitos. Whatever your view of vegans may be the health benefits are unquestioned; they are healthier. If you decide to give veganism a try I would suggest to start off slow and see how you feel. To help you start your journey I would recommend reading my book EAU, The China Study by: T. Colin Campbell or to visit www.PETA.org.
Like many people I was surprised to read that a Stanford study showed conventional foods had the same nutritional value as organic foods. How could that be possible? I needed to dig further. As I dug a little deeper I found like too many studies, the Stanford study dangerously isolates a finding from its larger context. It significantly plays down pesticides and neglects to mention that up to 20,000 United States agricultural workers get a pesticide-poisoning diagnosis each year. While the study says that "the risk for isolating bacteria resistant to three or more antibiotics was 33 percent higher among conventional chicken and pork than organic alternatives," it apparently didn't seek to explore how consuming antibiotic-resistant bacteria might be considered "non-nutritious." After finishing my book EAU I also realized who finances these studies also has a lot of influence to the outcome of these studies. Eventhough no "external" funding was provided for this study there was "internal" funding. Information of this internal funding seems to point to Cargill (the largest privately held company in the United States) and other companies with interest in Monsanto, McDonalds and Walmart. No surprise here to find BIG corporations trying to persuade the public on what to eat by distorting the facts. Reports still indicate a fesh, organic, whole food is the most nutritional dense way to eat food. Fight your battles wisely and read your labels.
I believe patients should never leave their doctors office without a clear understanding of their diagnosis. Many patients are not clear that most spinal conditions have an array of treatment options to choose from before making a decision regarding surgery. I try to give each patient a structured program and team approach. This may include therapy,pain management injection,medications,and surgery as a last resort. Patient are confused and using a full set of resources gives them time to learn about their conditions. Should surgery become necessary, less invasive procedures now exist.i am still amazed how many get injections without complete understanding of outcomes to be expected.Severe spinal stenosis is a real area for misunderstandings. If injections fail,surgical decompression can be quite rewarding.
I recently attended a spine conference and note several things. It was well discussed that outcomes should be very carefully reviewed. Complications are still too high for all technical procedures. Experience is king regarding any surgery. I do feel change with confirmed improved outcome is certainly preferred.i was happy to see less invasive types of surgery I'd becoming mainstay.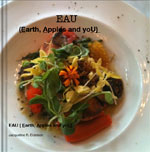 The much anticipated book has finally arrived. EAU is a guide to nutritional foods, wellness and living green for the busy suburbanite and city-dweller. Books are available in e-book form at http://store.blurb.com/ebooks/321933-eau-earth-apples-and-you .
The e-book is $4.99.
A portion of the proceeds of the book go towards PETA, water.org and local organic farmers. Be well.