Archive for September, 2012
I recently attended a spine conference and note several things. It was well discussed that outcomes should be very carefully reviewed. Complications are still too high for all technical procedures. Experience is king regarding any surgery. I do feel change with confirmed improved outcome is certainly preferred.i was happy to see less invasive types of surgery I'd becoming mainstay.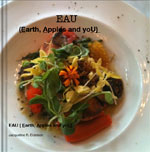 The much anticipated book has finally arrived. EAU is a guide to nutritional foods, wellness and living green for the busy suburbanite and city-dweller. Books are available in e-book form at http://store.blurb.com/ebooks/321933-eau-earth-apples-and-you .
The e-book is $4.99.
A portion of the proceeds of the book go towards PETA, water.org and local organic farmers. Be well.