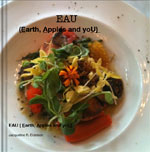 The much anticipated book has finally arrived. EAU is a guide to nutritional foods, wellness and living green for the busy suburbanite and city-dweller. Books are available in e-book form at http://store.blurb.com/ebooks/321933-eau-earth-apples-and-you .
The e-book is $4.99.
A portion of the proceeds of the book go towards PETA, water.org and local organic farmers. Be well.